Welcome back! This month for our Close to My Heart Spotlight Blog Hop we are focusing different Color Combos.  You should either be starting here or coming from Jill (Scrap Wench) blog.  You can find a complete list of participants on the previous post.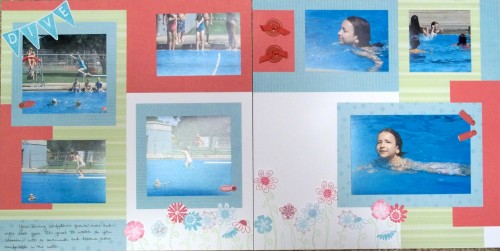 Supplies used are all Close to My Heart: Imagine book (p.46), Magic Moments paper, Cherry-O paper, Tulip & White Daisy cardstock, Smiles stamp set, Pennant Alphabet stamp set, Tulip/Sweet Leaf/Crystal Blue inks, and Tulip Mini-Medley Accents.
I chose my color combo from the Color Me Monday section on Jeanette Lynton's Blog.  This is a great resource for choosing colors that coordinate.  Another great place to look for inspiration is the Close to My Heart Idea Books.  As you browse through look at the upper corner of the page to see the color combinations that were used for the projects on that particular page.  I often struggle with what colors to put together and both these resources help in that process.
So, my colors are Crystal Blue, Sweet Leaf, Tulip, & White Daisy.  I dug into my stash of paper packs and found these papers in the Magic Moments and Cherry-O packs.  Who would have thought?  It's the backside of the B&T paper.   Here's what the front sides look like:

I wasn't a big fan of the Pennant Alphabet but it seemed the right choice for this layout and the flower garden along the bottom turned out just like I pictured it!
Now please hop next to Tracy Oleksak's blog to see the colors she chose!