Welcome to our Stamp of the Month Blog Hop! We will be featuring August's SOTM, which is School Year, a set of 9 stamps. If you have come here from Melinda Everitt's Blog, you are on the right path! The blog hop is a great big circle, so you can start here and work your way all around. If you get lost along the way, you'll find the complete list of participating consultants on Melinda's Blog.
This month Close To My Heart Consultants are sharing their creations using this month's SOTM and other great CTMH products on their blogs. To follow along just click on the link at the end of the post on each blog to move to the next one! Here we go!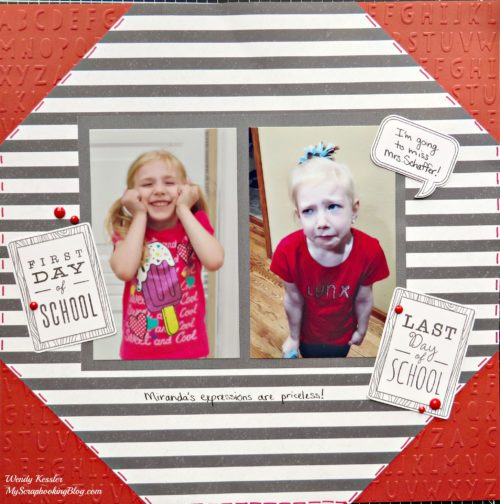 Products used are all Close to My Heart: Basic Fundamentals Paper Pack, Cranberry Cardstock, White Daisy Cardstock (for base), Alphabeet Embossing Folder, School Year Stamp Set (September 2017 SOTM), Charcoal Ink, Black Ink, Marvy's Uchida LePen Journaling Pen, and Red Enamel Gems.
Normally, I try to use the SOTM in a way you wouldn't expect but this one just screams school and was perfect for these photos. I really wanted to stamp within the lines on this patterned paper, so I lined it up on my Versamat and attached it to a White Daisy cardstock base. I only put adhesive in the middle so I could add the embossed Cranberry cardstock in the corners. Once I had everything in place, I secured all the papers with more adhesive. In the end, I didn't do the stamping like I had originally planned but I did use it as journaling space!
Now "Hop" on over to Cat Nowak's Blog to see her work! Be sure to visit all the Consultants at their Blogs to get some great crafting ideas and other fun ideas! Remember, the School Year Stamp Set is only available until August 31, 2017! Visit my website to see how you can get this stamp set at a discount!