Welcome to our Stamp of the Month Blog Hop! We will be featuring July's SOTM, which is Storybook Alphabet, a set of 26 stamps. If you have come here from Michelle Stewart's Blog, you are on the right path! The blog hop is a great big circle, so you can start here and work your way all around. If you get lost along the way, you'll find the complete list of participating consultants on Melinda's Blog.
This month Close To My Heart Consultants are sharing their creations using this month's SOTM and other great CTMH products on their blogs. To follow along just click on the link at the end of the post on each blog to move to the next one! Here we go!
This is a layout from the Prickly Pear Scrapbooking Workshop Your Way Kit.  I cut the papers and then added embellishments and title to fit my photos. I really like this Storybook Alphabet stamp set for the Girl Scout theme and plan to use it on more layouts!
Check out yesterday's post where I used this stamp set for my daughter's graduation guest book.
Now "Hop" on over to Melissa Robinson's Blog to see her work! Be sure to visit all the Consultants at their Blogs to get some great crafting ideas and other fun ideas! Remember, the Storybook Alphabet Stamp Set is only available until July 31, 2017! Visit my website to see how you can get this stamp set at a discount!  What a great bargain for an alphabet stamp set!!!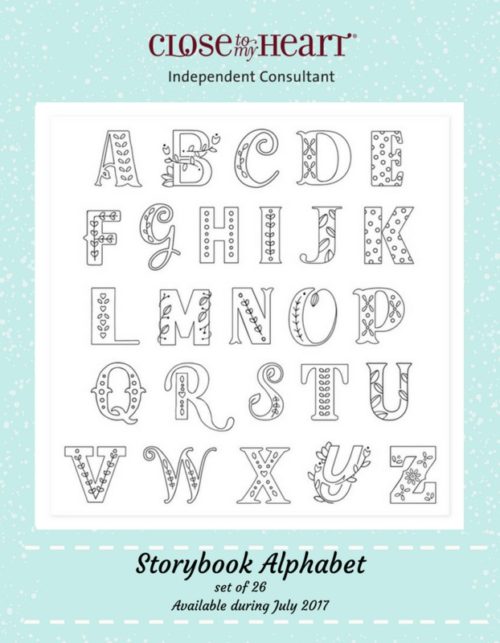 Here are some projects from corp that were made using this Stamp of the Month:
5¼" x 7¼" Adventure Traveler's Notebook
S1707 My Acrylix® Storybook Alphabet Stamp Set
X7220B No Worries Paper Packet
X7221B Prickly Pear Paper Packet
X7222B Jack Paper Packet
1385 White Daisy Cardstock
Z1375 Kraft Cardstock
Z3271 Archival Black Exclusive Inksâ"¢ Stamp Pad
X7220C No Worries Complements
X7221C Prickly Pear Complements
Z3324 Prickly Pear Sequins
Thread
Sewing Machine
12″ x 12″ This Day Page
S1707 My Acrylix® Storybook Alphabet Stamp Set
X7221B Prickly Pear Paper Packet
X7222B Jack Paper Packet
X7220B No Worries Paper Packet
1385 White Daisy Cardstock
X5789 Sea Glass Cardstock
Z3271 Archival Black Exclusive Inksâ"¢ Stamp Pad
Z2455 ShinHanâ"¢ Touch Twinâ"¢ Light Orange Marker
Z2459 ShinHanâ"¢ Touch Twinâ"¢ Pastel Green Marker
Z2461 ShinHanâ"¢ Touch Twinâ"¢ Peacock Green Marker
Z2465 ShinHanâ"¢ Touch Twinâ"¢ Turquoise Blue Marker
X7221C Prickly Pear Complements
Z3324 Prickly Pear Sequins
Z1979 Marvy® Uchida® LePen™ Journaling Pen