Welcome to our New Product Blog Hop!  We will be featuring new items from the Annual Inspirations Idea Book.
If you have come here from Michelle Battitori's Blog , you are on the right path! The blog hop is a great big circle, so you can start here and work your way all around.  If you get lost along the way, you'll find the complete list of participating consultants on Melinda's Blog.  To visit each blog for some great ideas just click on the link at the end of the post on each blog to move to the next one! Here we go!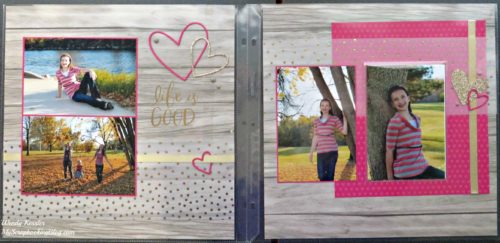 Supplies used are all Close to My Heart: Rustic Home Paper Packet, Uptown Paper Packet, Adventure Fundamentals Paper Packet, Raspberry Cardstock (new color!), Uptown Ribbon Pack, Picture My Life – Gold & Silver Overlay, Thin Cuts – Hearts, Gold Glitter Paper, Grey Enamel Gems, and 4×6 Flip Flaps.
I had so much fun using some of the new papers with these photos.  I was surprised at how well the Rustic Home Paper mixes with the gold elements.
Thin Cuts Tip: Keep a stick pin handy at your desk (I use one with a red tip so I can spot it better).  Use this pin to poke through the holes with the diecuts get stuck in the Thin Cuts.  It is also handy to clean out the tip on the Liquid Glass (which you will most likely be using with your Thin Cuts.)
Vellum Tip: To adhere vellum you can use a vellum tape or spray.  Another option is to apply adhesive where it will be hidden.  Looking at the above layout, I attached the vellum where my pictures and ribbon would cover up any adhesive.  This second option does take planning. 😉  You could also attach with staples or brads.
Organizing Tip: I like to keep all the paper from one packet together.  I've got lots of large ziplock bags leftover from completed workshop kits that I reuse (or you could purchase some).  You can peel off the label from the Paper Fundamentals package pretty easily and stick it on one of these bags.  If it doesn't come off well, you can just tape it to the bag.
Now "Hop" on over to Cat Nowak's Blog to see her work! Be sure to visit all the consultants at their blogs to get some great crafting ideas!