This hop is a circle; if you have just started simply continue until you make your way back here; if you have already started, you should be coming from Joy McHargue.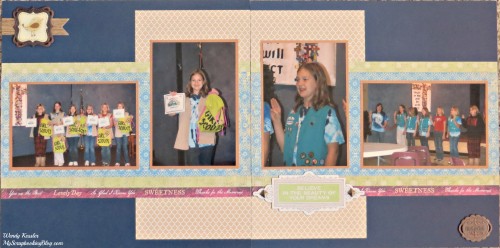 Supplies used are all Close to My Heart: Cardstock (Outdoor Denim and Brown Bag (retired)), Ivy Lane Paper Packet, Jubilee Paper Packet, Paper Fundamentals Basic Assortment, Skylark Complements, Durable Studs – Square (retired), Harvest Charms (retired), and Make It from Your Heart Volume 2 (Pattern 2).
I really enjoyed putting this layout together because it really is a stash buster.  I used old metals as well as scraps left from new papers, using up multiple paper packets.  For the metal I found some old accents that went with a specific paper packet.  This is a good example of thinking outside the box with these specific embellishments.  The complements that I used were also specific but I was able to mix those in as well.  I really wanted to use antique brads but it's been so long I can't find them (!) so I used the studs instead.
Now hop on over to Janet McCormick!
List of participants: