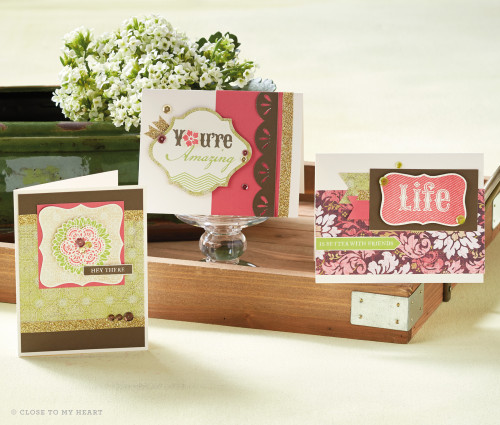 The Ivy Lane Workshop On the Go Cardmaking Kit is not in our club rotation so if you are in club and would like this one you should add it to one of your orders or substitute it for a different workshop.
The Ivy Lane Workshop On the Go Cardmaking Kit includes:
My Acrylix Ivy Lane Cardmaking Workshop Stamp Set (D-size) (exclusive)
2 – Ivy Lane B&T Duos Papers (from the Ivy Lane Paper Packet)
4 – Cardstock Sheets (1 Cocoa, 2 Colonial White, 1 Hollyhock)
15 – Colonial White Cards & Envelopes
1 – Sequin Dot Assortment (24 each of 4 colors) (exclusive)
1 – Gold Shimmer Trim (exclusive)
1 – Instructional Brochure
Basic Workshop on the Go supplies: All Workshops On the Go Kits use some or all basic supply items which I recommend you bring with you.  These items include a paper trimmer, scissors, sponge, piercing tool/mat, My Acrylix blocks for stamping, and adhesives of your choice (which may include Liquid Glass, Glue Dots, 3-D Foam, etc.)
Additional Supplies required to complete:
Z2103 Bamboo Exclusive Inks Pad
Z2114 Cocoa Exclusive Inks Pad
Z2128 Hollyhock Exclusive Inks Pad
Z2197 Pear Exclusive Inks Pad (you may want to substitute Olive Ink, see my notes below)
Z1686 Cricut Art Philosophy Collection
Mine are a little different: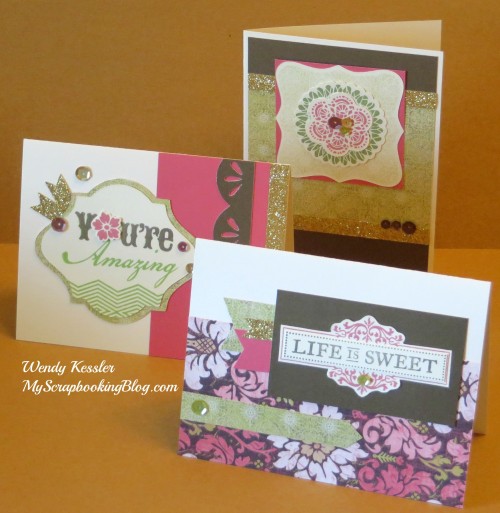 This kit provides supplies and instructions to create a total of 15 cards (5 each of these three designs):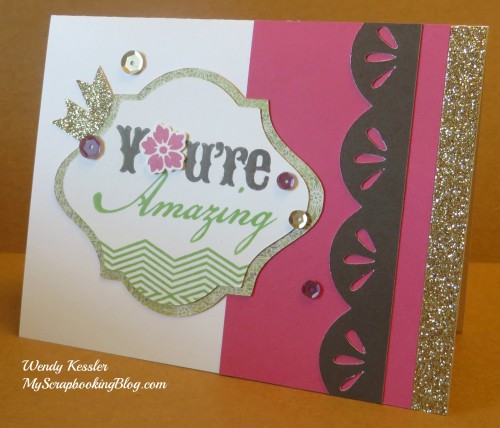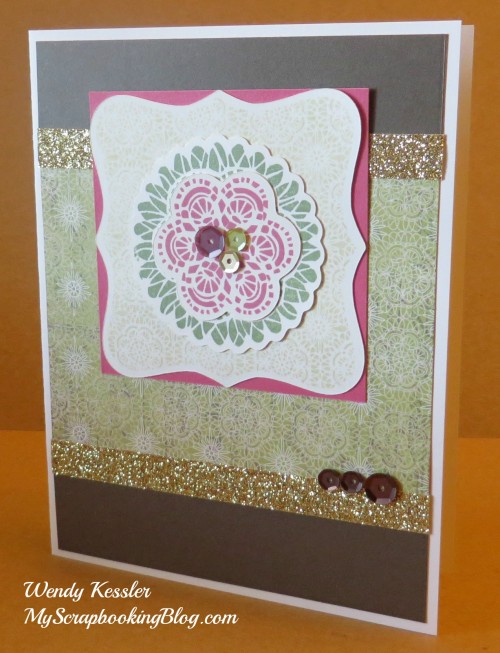 The instructions call for Pear ink but I didn't think that looked right so I changed it on this card and used Olive Ink instead.  You can see the difference from card 1 (used Pear on the sentiment) and card 2 (used Olive on the flower).  If I could do it again, I would use Olive on both but with all that masking already done I really didn't want to redo it. 🙂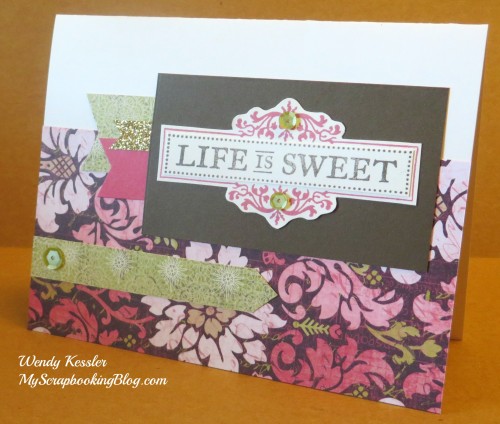 I altered this last design by using the B&T paper for the banner on the bottom and the Inspiration Flourishes Stamp Set.  Don't be afraid to change up the cards like this to make them suit your own personal needs!