Welcome to the Close to My Heart New Product Blog Hop.  Throughout this hop you will find a variety of items all created using new products from the Close to My Heart 2010 Spring Idea Book.  You can click here to view the new Idea book or to shop online. 
This is part 2 from today's earlier post where I showed you how to use the Caboodle Workshop on the Go guide to make 4 scrapbook pages and 12 cards.  The layouts and cards in this post were used with the papers that were left from the Caboodle paper pack!  To extend the paper I added 2 sheets of 12×12 vanilla cream cardstock for one of my layout bases and 2 sheets of 12×12 vanilla cream cardstock for my card bases. 
Here are my projects all created with the new Caboodle Paper Packet: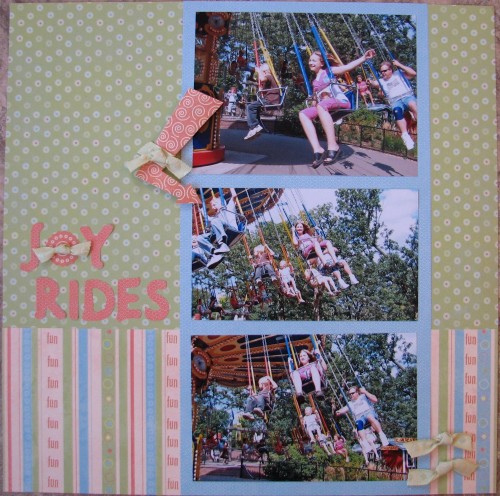 Notice on the Joy Rides layout I added "fun" to the B&T Background paper.  It was a great way to personalize the paper to fit my layout perfectly.  Also, the title is stamped with the Field Trip Alphabet on the back of the paper and then cut out.  To do this, place your acrylic stamp the wrong way on your block and stamp the flat side to your paper.  The letters will appear backwards when you stamp them but will be correct when you cut them out and flip them over.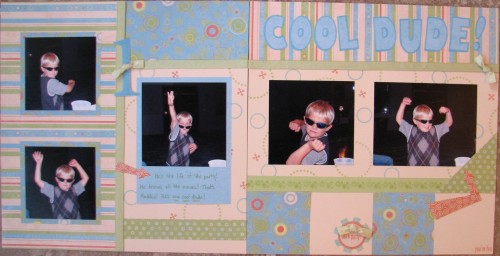 And something for those who do not do any girly pages – the Sweet Leaf Ribbon Rounds is a great accent to this paper.  Don't like the printed floral ribbon that comes with it?  Simply flip it over and you've got a solid grosgrain ribbon!  I used the ribbon in this way on the 1 Cool Dude layout and the Buddies layout. 
These are standard A2-size cards: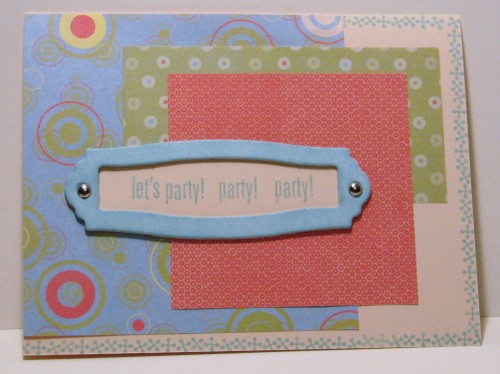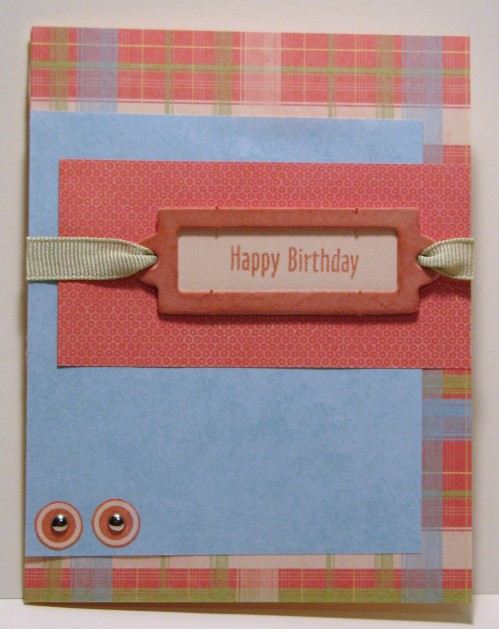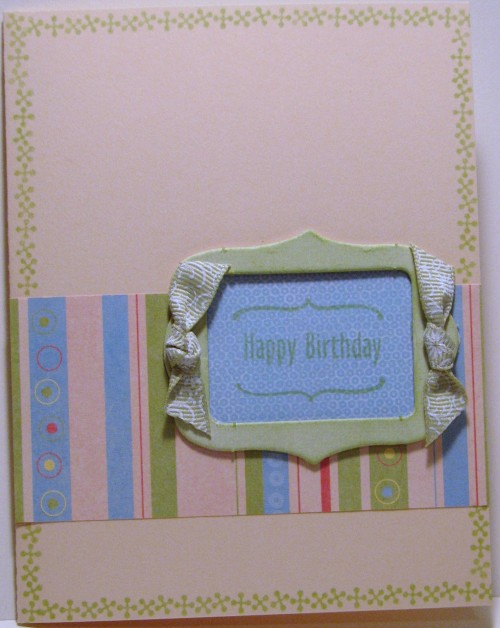 These are 3×3 cards:

For the first 3×3 card I cut the oval Dimensional Element in half and attached.  To make the stamped frame on the third 3×3 Thank You card I used one of the bracket-like stamps from the Fringed Phrases stamp set and stamped it on each side.  
Products used are all CTMH: Caboodle Paper Packet, Imagine, Cherish – Portrait Collection (right) & Dreamy Look, Wishes – Simplicity, Field Trip Alphabet stamp set, Caboodle WOTG stamp set, Sweet Leaf Ribbon Rounds Collection, Caboodle WOTG stamp set, 3D foam tape, Solo 1 stamp set, Fringed Phrases stamp set, and Posterboard Alphabet stamp set.
You can purchase any of these items by contacting me directly, or ordering through my CTMH website.
One more thing I have to add – I can't remember the last time I changed the refill in my ATG gun but I can tell you it was before I started all of this.  If you look at all I've created in this post and the Caboodle Workshop post you can see that it's a lot and I still have a about 1/4 inch of adhesive left on the roll that is currently loaded.  I do not go light on the adhesive so this is a great test and it just amazed me so much when I realized it that I had to share!
Now to continue the CTMH New Product Blog Hop visit DAWN ROSS' BLOG to see her creation!  Be sure to visit all the consultants at their blogs for some great crafting ideas and see the great new paper packs, My Acrylix stamp sets, and amazing new embellishments!  If you get lost along the way you can view a complete list of the blog hop participants in the previous post.
If you enjoyed this blog hop be sure to come back here this Friday, January 15 for a new CTMH Product Spotlight Blog Hop featuring a different product each month.  It may be something that you already have in your stash or something new you haven't tried yet.  This month we will be featuring Imagine so you can expect to see some amazing layouts!
This is 3 more towards my layout goal.  I am now at 12 of 210.