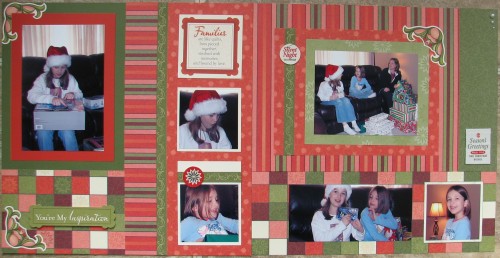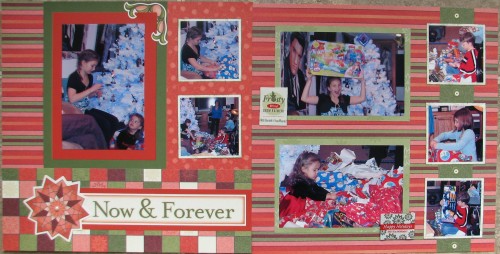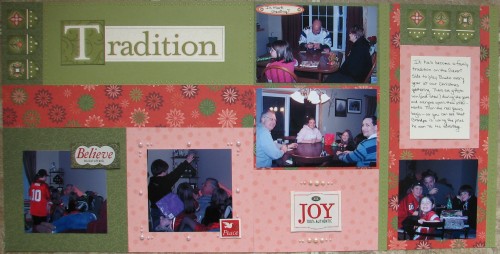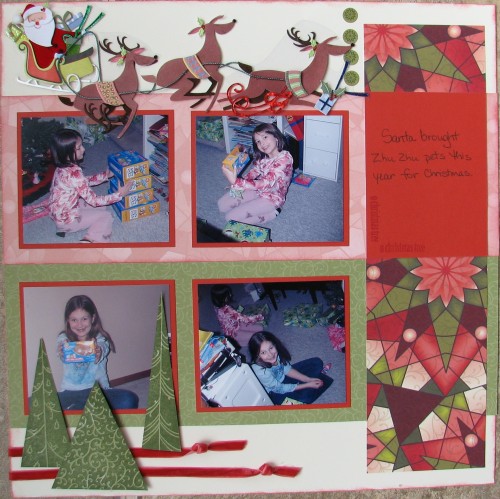 Products used (all CTMH unless otherwise noted): Evensong Level 2 Paper Packet, Evergreen stamp set, Chocolate Alphabet Large, Evensong Stickease, Cranberry Ribbon Round, Liquid Glass, Holiday Fabric Tags, Jolee's dimensional stickers by EK Success, and Kaisercraft Pearls.
I started these layouts before Christmas using the Evensong Workshop on the Go guides.  Then I made more pages with the paper that was left.  Today I finished them up by adding pictures, journaling, and embellishments.  I had to take the Santa and reindeer sticker apart to make it fit the way I wanted. It originally came to be adhered up/down the long way. I wanted mine to go across the top of the page. In order to make it work I took the middle reindeer off the reins and turned it around. I cut the reins in the middle because they were too long and hid the seam under the middle reindeer. It worked great. The only thing I regret is not taking the entire sticker off the backing. You can see how the middle reindeer doesn't have the transparent sticker behind it. I just added my own adhesive and I think it looks much nicer. I didn't notice it until it was already down and then there was no way it was going to come off nicely so it's staying where it is and I'm calling it done.
Something I like to do is try to use up an entire paper packet.  I did that with the Evensong paper after I made my layouts by making the cards HERE.  It's a great feeling of accomplishment to use it all up and it is also amazing just how much you can get out of one paper pack.
These are my first layouts of the year so I am starting at 5 of 210 for 2010!