(If you are looking for the Stamp Sunday post, please come back tomorrow.)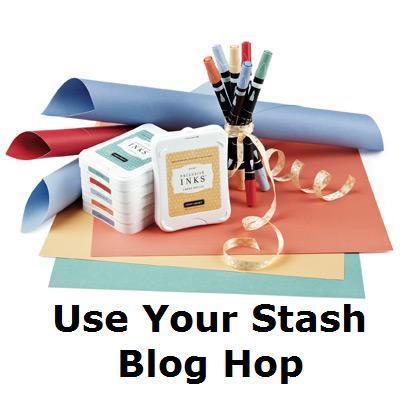 WELCOME!  I'm so glad you are joining us for our "Use Your Stash Blog Hop".  If you have already started, you should be coming from Rachel Ventura's Blog.  If this is your first stop, continue through until you make your way back here.  This month we are using chalk, something that I have not used in a very, very long time.  In fact, I wasn't even sure I had this anymore.
Supplies used: CTMH Sweet Leaf Ribbon (retired), CTMH Love in Bloom Stamp Set (retired), CTMH Chalks (retired), unknown ricrac from my stash, CTMH Sparkles, and CTMH Bitty Sparkles.  Sketch from Got Sketch.
This was a fun layout to do.  My daughter came up to me when I was working on this and said "oh, you are using those (chalks) they are so cool!"  It's an old supply that I have not used in a very long time.  I colored the stamped images with chalk.  She suggested that I add more than the yellow to the sun so I mixed in a bit of pink and it turned out very pretty.  The sun is really a sunflower stamp.  Then, I also did something I am surprised worked….I stamped with the chalk.  Because it is yellow it's hard to see, but I used the flourished stem from one of the flowers and chalked up just that part (dabbing it on heavy with an applicator), then I stamped it directly onto my paper.  I'm sure that a darker color would work better.
Gee, I didn't realize until I uploaded my photo that my layout doesn't have a title!  I think I'm going to keep it that way.
Now hop on over to Joy McHargue's Blog for more ideas on using up your stash.
Here is a list of participants: