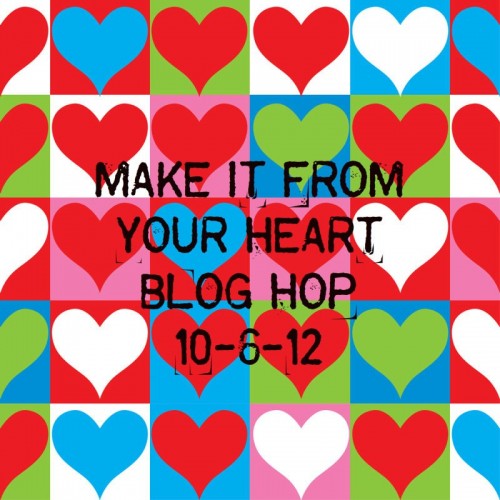 Today we will show you how to Make It From Your Heart!  Jeanette Lynton has created a brand NEW "how-to" program to not only guide you but also inspire you to create beautiful artwork.   This amazing publication has so many different pattern blueprints that you can interpret in ANY WAY you want!
Through our blog hop, we hope to inspire you to use your own artistic instincts to interpret and create your own artwork.  Each of our crafty consultants has chosen a different page of this book to create two projects for you – that's right two projects with the SAME pattern!  One project will follow the blueprint pattern as laid out.  The second project will use the pattern "with a twist"  to show you how versatile the patterns are.
We are having a giveaway – that's right blog candy for you hoppers!  Lucy will be giving away a copy of the Make It From Your Heart – Volume 1.  All you have to do to be eligible to win is to leave a comment on each blog.
If you are coming from Stephanie's Blog, you're in the right place.  If this is your first stop, you can go to the beginning at Lucy's blog.
Now to the good stuff!  For my projects I chose Pattern #30 in Make It From Your Heart Volume 1.  This is an amazing book and very affordable at only $7.95!
My first project is a card:
Supplies used: Creative Imaginations paper, CTMH White Daisy cardstock, CTMH Smokey Plum ink, CTMH Pear ink, Stampin Up blending pen, CTMH Black ink, CTMH Love in Bloom stamp set (retired), and unknown rhinestones from my stash.
I used a blending pen with ink off the lid of my ink pad to color in the flower image.
My second project is a journal.  I alter these notebooks all the time for birthday gifts.  The kids love them.  They are great gifts for any age and can be personalized for anyone.  I typically use the same paper on the back but did not have enough for this one so I used a coordinating color of cardstock.  Then, I cut it a bit small on the backside…great things can come from mistakes, right?  I covered the section with ribbon and made it longer so it overlaps into the notebook to be used as a bookmark.   What a great idea!  🙂
Supplies used: Creative Imaginations paper, Stampin' Up! cardstock, CTMH Friendship Alphabet Large stamp set (retired), CTMH Smokey Plum ink, CTMH Opaques Pearl Flourishes, and K & Company Layered Accents.
Back: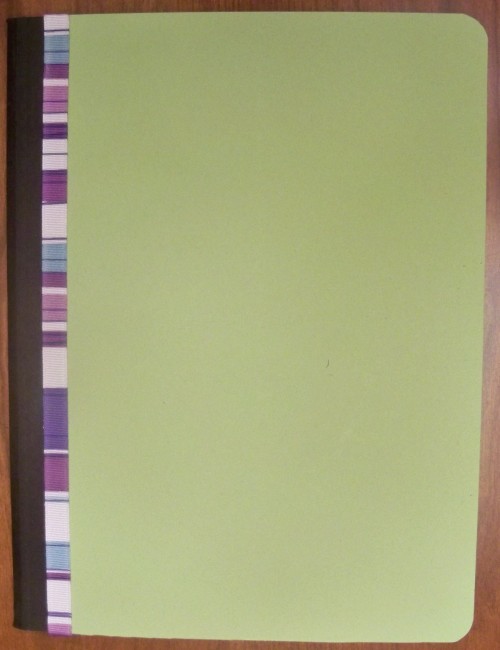 This is the final stop on our blog hop.  Thanks for looking and you can purchase the amazing Make It From Your Heart Volume 1 on my Close to My Heart website today for just $7.95!
Here is the list of all the talented consultants who are participating in this months blog hop: