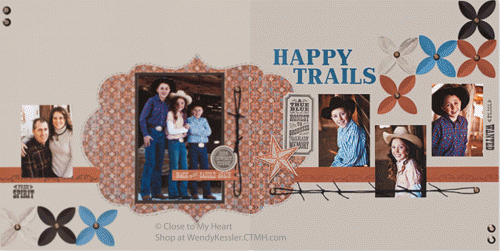 On October 26 @ 6:30 – 9:30pm, we will be creating the Dakota Scrapbooking Kit with a Mystery Hostess.  If you place an order for this kit or an order of $29.95 or more, your name will go into a drawing for the hostess rewards earned on this order.  You need to order by Oct. 5 by contacting me or joining the correct gathering on my website to qualify and receive it by the scheduled workshop date. The Dakota Scrapbooking Kit includes: My Reflections Dakota Paper Packet (X7157B) My Acrylix Dakota Workshop Stamp Set (C-size) only available with this workshop 2 – Whisper Cardstock Sheets Durable Round Studs Black Hemp Instruction Brochure Additional Layout: (directions on my website)
Bonus Project: (directions on my website)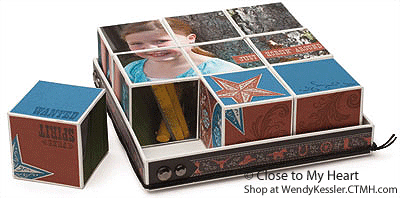 Add these items to your order to create the workshop bonus project:
Z1737  My Creations Collage Cubes  $14.95
Required Tools: (if you are attending, I will have these available for your use)
D1507  My Acrylix® Urban Alphabet  $29.95
Z2104  Barn Red Exclusive Inks® Pad  $5.25
Z2105  Black Exclusive Inks® Pad  $5.25
Z2192  Pacifica Exclusive Inks® Pad  $5.25
Z2430  Black Exclusive Inks® Marker Set  $5.95
Z1686  Cricut® Art Philosophy Collection  $99.00
Z697  Sponge  $1.25
Y1002  1″ × 3 1/2″ My Acrylix® Block  $5.95
Y1009  2″ × 3 1/2″ My Acrylix® Block  $7.50
Y1010  2″ × 6 1/2″ My Acrylix® Block  $9.95
Not provided:
Z1151  3-D Foam Tape  $5.95
Coordinating products:
Z1781  Black Striped Grosgrain Ribbon  $6.95
Z1779  Irresistibles Houndstooth Alphabet  $4.95
Z1780  Wrangler Assortment  $5.95
X7157C  Dakota Complements Foil Images  $4.95
C1508 Paisley Flair stamp set  $13.95
B1405  Rugged Dude stamp set  $9.95
Colors (for cardstock, inks, and markers): Barn Red, Black, Pacifica, Whisper
The Stamp of the Month is:
Very Merry Christmas
The current Constant Campaign is:
Buy 9 Studio J layouts, get the 10th one free.
Below are my layouts and notes on anything I changed.  I did not order the workshop kit on this one.  I just ordered the paper pack and used my own supplies to create the layouts.  One note if you do this is that you will most likely need extra cardstock (note that all the workshops come with extra neutral cardstock).
(I'm not quite done with the first layout.  I will post when it's finished.)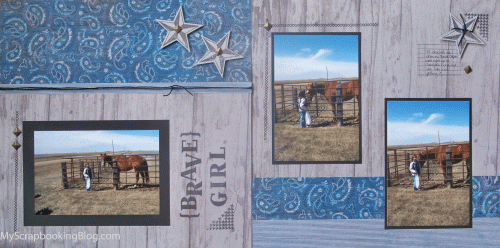 I switched up the papers on this one and I used the grey as the background for the second page and cut the striped paper at 1 1/2″ x 12″ (this also saves on paper).  I rotated the second page to fit my photos.  I used the Typeset stamp set which is retired but if you are one of my club members you most likely have this one in your stash!  Notice that I staggered the letters of Brave in my title.  This is a great option if you need to shorten your title or have a hard time lining the letters up straight.  I did use black hemp…so glad to wrap it around the page and almost have it all used up.  It was difficult to make a bow look right so I just did a knot.  I prefer waxy flax.  I used the square studs instead of the round.  Other options would be black/grey sparkles, black assortment, or slate assortment.