2012-09-24
This is Part 2 of my SMASHBOOK, more scrapbooking and bright ideas.
Scrapbooking embellishments that I tend to hoard and creative ways to use some of them up.  I love the little clips like the one I have on the top of this page.  I used them to mark the pages that I will be referring back to often throughout the year.
Ideas out of my (former, so sad) favorite scrapbook magazine Scrapbooks, Etc.  Room to add a few more things here.
Goals and ideas for right here at My Scrapbooking Blog.  The funky paperclip is another item I used to mark pages.
More ideas from magazine clippings.  The clear/decorative ziplock baggies are great for so many things!
Things I'd like to get done around the house.  I will admit this page is the least likely out of the entire book to get done but I've got a whole year. 🙂
Quotes I want to use on my scrapbook pages.  With three girls a lot of them are sister quotes.
Motivational quotes.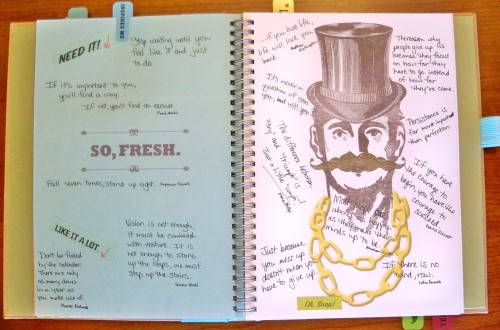 Scrapbook Titles I want to use.
More creative things to make.
Cool ideas I like or want to try.
More cool ideas I like or want to try.
Come back to see more!  In case you missed it, you can scroll down for Part 1.