2012-09-23
Update 1/29/13: I am disappointed that Crafter Mania decided to not use my book as planned and never informed me.  I spent many hours on this project and was not reimbursed as per our agreement.  I was also looking forward to using my smashbook this year and still have not received it back as promised.  I will not do business with them again and do not recommend them.
Update 2/15/13: Received my smashbook. 🙂
————————————————————————————————————————–
I want to give a big shout out and thank you to Crafter Mania and EK Success for sending me this package to try out.  Its a SMASHBOOK and a bunch of coordinating embellishments that go great together.
Some pretty awesome stuff, huh!?!
I had a lot of fun with this book.  I used it to create a motivational To-Do 2013 Book.  It contains ideas and goals for my scrapbooking, weight loss, family, and home life.  I will be using the stamper to date things as they are completed throughout the year.  There are SO many pages in this book and so many things that you can do with it!  I think I will get another one and just SMASH in all the stuff that I have in one of my file drawers….ticket stubs, kid's programs, etc. that didn't make it in my scrapbooks or that I don't have pictures for.  It will be a great way to get it done.
I will share the entire book with you but I'm going to break it down into multiple posts because it is so awesomely huge!  I will also say that this is the first Christmas gift I have done this year and it is a gift to myself!  How awesome is that!
Here we go!  Part 1 – Scrapbooking & Me Time.
I'll start with the front cover which has a beautiful embossed design.  Of course, I had to personalize mine a bit by adding some color and bling.  I used colored pencils and Stickles.  You could use anything you have on hand in your stash (markers, glitter glue, rhinestones, etc.)
Before: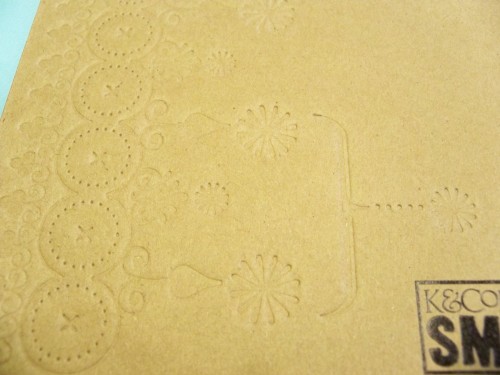 After: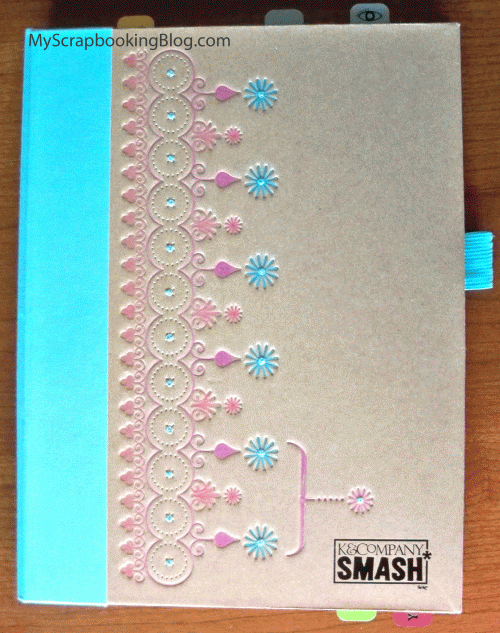 This is the inside cover.  It's pretty bare now and I like it that way but may add more to it throughout the year.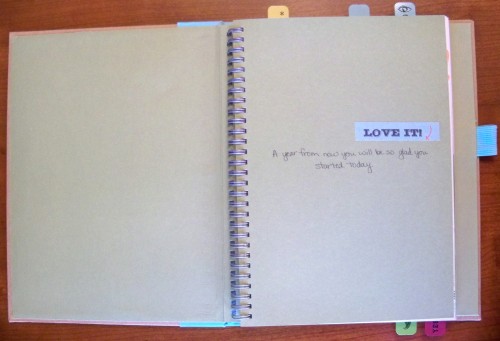 A cool first page and I've left it as is (unless you can notice where my toddler got a hold of my pen)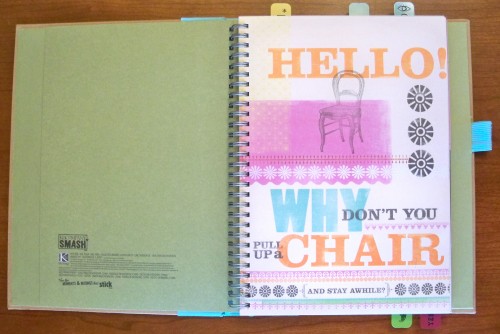 My reason for creating the book and motivational quotes.  My favorite is: "Either you run the day or the day runs you."  (Jim Bohm) This is so true!
Some of my scrapbooking goals (room for more)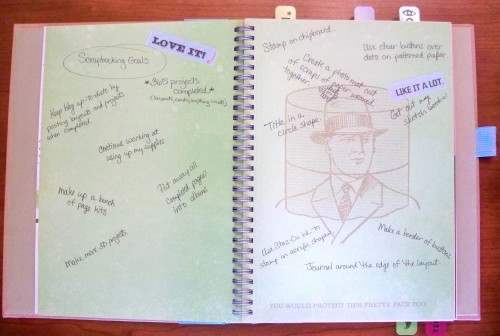 Scrapbooking and craft projects (I am always adding to this list)
Ways I like to spend time relaxing.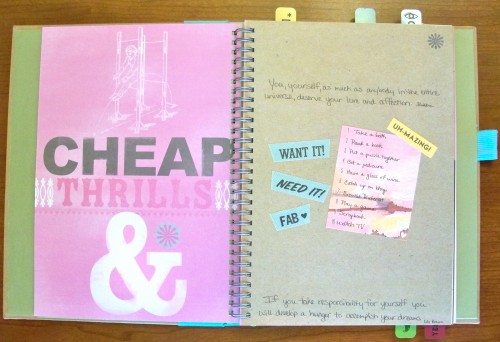 Quotes on making time for me.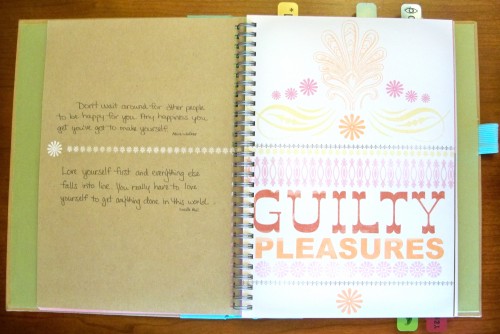 Motivational quotes.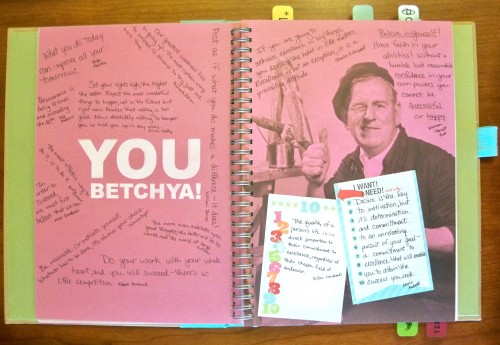 Be sure to come back and see the rest of my book over the next couple days.