I thought it would be easier to reference, so I've created a separate page for my Event Schedule (see up at the top).  This includes a list of all workshops and crops, as well as the order deadline dates.  I will send out reminders and will refer to this page often so I wanted to make sure you were aware that it was there and check it out.
Now on to the next upcoming workshop: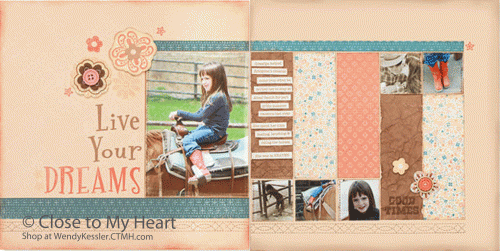 On October 5 @ 6:30 – 9:00pm we will be creating the Clementine Scrapbooking Kit.  If you are in Club, this is the time to order.  You need to order by Sept. 7 by contacting me or joining the correct gathering on my website to receive it by the scheduled workshop date.
The Clementine Scrapbooking Kit includes:
My Reflections Clementine Paper Packet (X7156B)
My Acrylix Clementine Workshop Stamp Set (C-size) only available with this workshop
2 – Colonial White Cardstock Sheets
Cottage Assortment (Z1794)
Instruction Brochure
Additional Layout: (directions on my website)
Bonus Project: (directions on my website)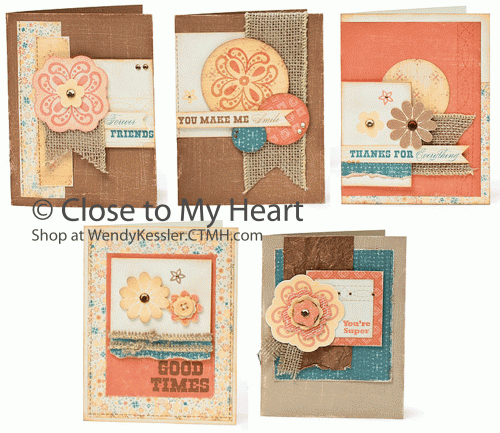 Add these items to your order to create the workshop bonus project:
Sparkles Brown & Tan Assortment (Z1753)
Burlap Ribbon (Z1760)
Required Tools: (if you are attending, I will have these available for your use)
E1015  My Acrylix Cocktail Alphabet  $29.95
Z2167  Créme Brulee Exclusive Inks® Pad  $5.25
Z2171  Saddle Exclusive Inks® Pad  $5.25
Z2164  Sorbet Exclusive Inks® Pad  $5.25
Z1294  Sanding Kit  $3.50
Y1000  1″ × 1″ My Acrylix® Block  $3.95
Y1002  1″ × 3 1/2″ My Acrylix® Block  $5.95
Y1003  2″ × 2″ My Acrylix® Block  $6.50
Y1006  3″ × 3″ My Acrylix® Block  $8.50
Spray Bottle with Water
Not provided: Z1151  3-D Foam Tape  $5.95
Coordinating products:
X7156C  Clementine Complements Canvas Shapes $5.95
Z1794  Cottage Assortment  $5.95 (included in Workshop)
D1525   Casual Expressions stamp set $17.95
B1408  Buttons, Bits, and Bobs stamp set $9.95
Z1387  Wooden Buttons  $5.95
Colors (for cardstock, inks, and markers):
Champagne, Saddle, Cashmere, Sorbet, Colonial White
The Stamp of the Month is:
(August) Baraque Borders
(September) Fall Favorites
*The Stamp of the Month may vary depending on your purchase date.  If you order online, it will be the month in which you are purchasing.  If you order by contacting me, the Stamp of the Month will be (September) Fall Favorites.
The current Constant Campaign is:
Celebrate your everyday moments with the My Acrylix® It's Your Day double stamp set. Get it for just $5 when you place a minimum order of $35 in full retail products from August 15 through September 30, 2012.