Welcome to our August Art Philosophy Blog Hop!  Each month we will showcase a feature of the amazing Art Philosophy Cricut cartridge.   This month we will be showcasing the "Decorative Layer" (shift or no shift) feature of the cartridge.  Did you know there are 100 different card shapes you can make with this cartridge?  You heard me correctly — 100!!! Now we won't be able to show you ALL 100 card options, but we will show you as many as we can.
The blog hop makes a circle so if you are starting here, just continue until you make your way back.  If you have already started, you should be coming from Diana's Blog.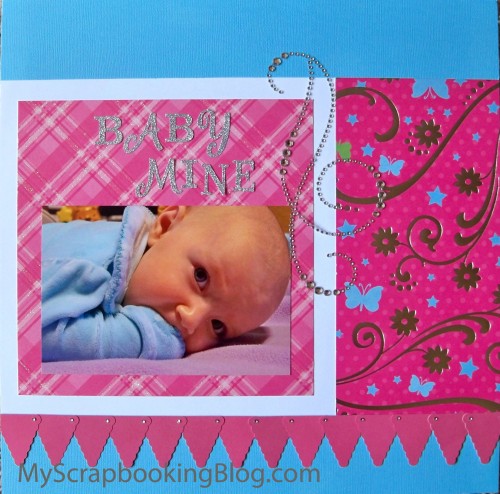 Supplies used: Diecuts With a View paper, Close to My Heart Art Philosophy Cricut Cartridge, CTMH Sparkle Flourishes, and Making Memories Shimmer Alphabet Stickers.
I chose the banner on the decorative layer page 59 (no shift).  Instead of using it as a banner, I created a border across the bottom of my scrapbook page.  I really like the silver on this layout!
Your next stop is Eva's Blog!
List of participants: