2012-04-18
If I didn't like paper scrapping so much, Studio J would definitely be my first choice for digital.  Or I would use it if I had a big project that involved multiple layouts or many that coordinated I would use it.  One of the changes lately in the Close to My Heart Idea Books is that the Level 1 layouts have changed from paper to Studio J.  This isn't a bad thing because it is so easy to use.  As I look through the Idea Book, I find many of these Studio J layouts that I really like, however I have so many scrapbooking supplies that it makes sense to use these up.  I've decided to start taking these Studio J layouts that I love, just like any other layout I would find online or in a magazine, and use it to create my own paper layout.
Studio J layout: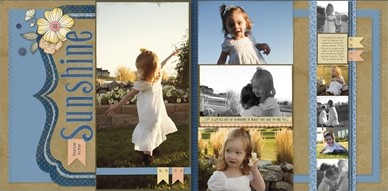 My layout:
Supplies used: Making Memories Think Pink Slice paper, Close to My Heart White Daisy Cardstock, Close to My Heart Art Philosophy Cricut Cartridge, Close to My Heart Flip Flaps, Prima Iced Got Flowers, Kaiser Paper Flowers, My Mind's Eye Kaleido Grams Small "5", Me & My Big Ideas Rhinestone Word, and Close to My Heart Clear Sparkles.
These are some of my favorite pictures of my daughter.  They replaced her school photos since at this age they no longer trade with their friends.  I figured if it's just for me and family why not get some really nice photos so we took a trip to a flower garden and got these great shots!  I don't have the flip flaps on yet because I wanted to take my picture without the glare of a page protector but I have a stack of 4×6 photos on the right page that will be attached to my completed page with a couple flip flaps.  I am very happy that I like the page as well as I do the photos!