2012-04-15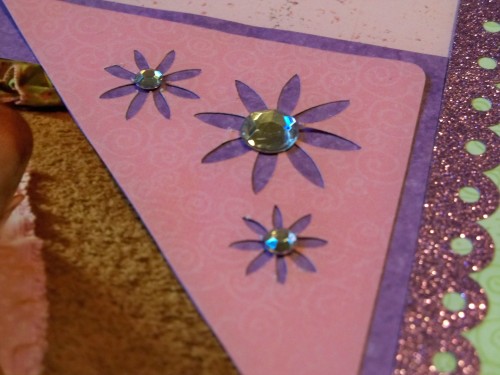 Welcome to our Technique Blog Hop!  This month we are highlighting the Layering a Window Card Technique as shown on page 33 in the Spring/Summer 2012 Idea Book!  What you do is create a pattern to adhere to your card so it shows through the window of your card.
This blog hop is a great big circle so you can start wherever you want and continue through to see all the fabulous artwork incorporating this technique.  So if you are starting here, just continue until you make your way back.  If you have already started, you should be coming from Lisa's Blog.  If you get lost along the way, go to my previous post for a list of all participants.
Supplies used: CTMH Daydream papers (retired), Two Busy Moms paper, Recollections Glitter Adhesive Borders, Me & My Big Ideas Pink Princess Word, and Darice Finishing Accents, and CTMH Art Philosophy Cricut cartridge.  Dec. 20120 Page Map.
I really dug in my stash for this layout.  I was amazed at how hard it was for my to find purple!  For my variation of this technique, I first cut my window card (1st row, third button over).  Then I cut it at an angle to create photo corners and backed it with the purple paper.  Last, I added rhinestones to the flower centers.
We would love to see what you've created using this month's technique, please visit Technically Terrific where you can share your project and be entered in a chance to win great prizes.
Thanks for stopping by!  Please continue onto Marianne Hancock's Blog where you will find some additional artwork highlighting this technique!  Be sure to leave a comment and let me know what you thought of my variation and happy hopping!