Posted in
Altered & 3D Projects
and tagged with
Cricut
,
CTMH
,
sparkles
on 08/06/2012 12:00 am by Wendy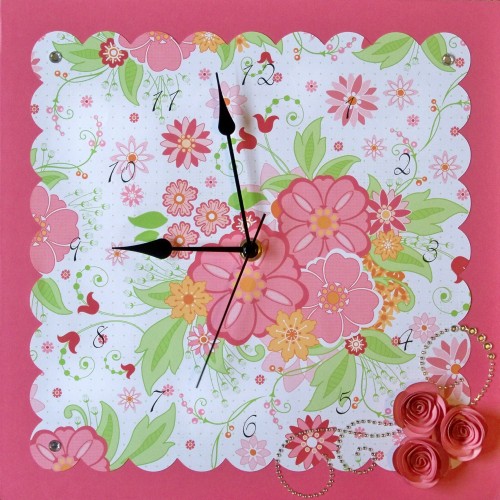 Supplies used are all Close to My Heart unless noted: Sophia Paper Pack, Mod Podge, Cricut Art Philosophy cartridge, Hollyhock cardstock, Hollyhock ink, Creative Imaginations Bare Element Wood Clock, Sparkle Flourishes, and Sparkles.
The Scrap Our Stash Challenge for this month is anything to do with time.  As soon as I heard this I knew exactly what my project would be.  I can't tell you how long I have had this clock and it's just one of those projects that has remained in the box due to lack of time.  I applied the first coat of paper with Mod Podge, after that I decided to just use my ATG gun and not worry about a top coat.  After each paper I pointed through the middle hole from the back so I could locate it and then used my Finishing Tools to sand the circle/hole and make it pretty.  One of the filing tools is rounded and works wonderfully for things like this.  Now once I got the initial covering and numbers on I just didn't know what else to do with it.  It was pretty the way it way but I really like to embellish.  Part of me wishes I had the numbers I wanted or that I had stamped them on flower shapes or something but I'm not going and you really don't need numbers on a clock.  After a day passed with this sitting unfinished on my desk I chose to complete it with 3D paper flowers and some sparkles.  Now all I have to do is get it hung up.  It will go in my scrapbook room but it's not easy to get to where I want it.